Contents - Click a link to skip to the section you want to read
Did you know that vegan Birkenstocks are now officially a thing? It's true, but should we be embracing the fact or shunning the shoe? It's been a topic of debate amongst many vegans I know, so I thought it was time to get my thoughts online.
First, though…
What are Birkenstocks?
You may well be wondering, "What the heck are Birkenstocks, anyway?", so it's probably a good idea to give you a little insight into them before we get into the article.
Birkenstocks are a German shoe manufacturer that are most famous for their recognizable sandals. Put it this way, even if you've never heard of Birkenstocks before, it's highly likely you've seen someone wearing them.
This is not a new brand. The Birkenstock family have been in the business of making footwear since 1774, which was when Johann Adam Birkenstock registered himself as a shoemaker, and their famous sandals made their way stateside way back in 1966.
Popularized in the seventies by the flower power generation, Birkenstocks carried a bit of a stigma around with them for a number of years. Recently, however, the brand's popularity has increased after numerous celebs have been photographed wearing these iconic shoes.
READ NEXT: What Is Leatherette? Is Faux Leather Fabric Really A Viable Alternative?
Since when were Birkenstocks vegan?
Pretty recently. Birkenstocks released a vegan range in the US early 2017, although they have had vegan options available in Europe for considerably longer.
Vegan fashion is on the increase, and as long as more and more people switch not only their diets but their entire lifestyles, this looks set to continue. Business is business, so it's hardly surprising to see massive companies such as Birkenstock catering for such a fast growing market.
NEED SOMETHING WARMER? CHECK OUT OUR GUIDE TO VEGAN WINTER BOOTS NEXT!
So, what do vegan Birkenstocks look like?
Pretty damn good, actually. Their current range of vegan footwear is limited, but there's talk of it increasing if these initial offerings take off as they're expected to.
Let's have a look at some of the more popular vegan Birkenstock shoes currently available:
The Arizona
One of the most famous designs to come out of the house of Birkenstock is the Arizona, and now it's available as a vegan option thanks to the Birko-Flor technology that switches leather for microfibers.
The Gizeh
Hot on the, ahem, heels of the Arizona in terms of popularity is Birkenstock's Gizeh. This "thong" style sandal is sure to be a hit with plant-based practitioners thanks to entirely synthetic makeup.
The EVA Arizona
Looking for a vegan Birkenstock Arizona you can wear to the beach? Well, their EVA version might just fit the bill. These shock absorbing sandals are built with comfort in mind, and the brighter colors will ensure you stand out, too.
The Mayari
The cross-toe design of the vegan Mayari Birkenstocks is simply adorable, and the range comes in a variety of colors, too! Finding a summer shoe to match your outfit has never been easier!
The Boston Clog
Don't want the world to see your toes? Birkenstock's Boston vegan clog might be just what you're looking for. The microfiber upper and lining coupled with the cork footbed make this a great way to hide those toes!
The EVA Madrid
Just like the Arizona, Birkenstock's Madrid sandals have had a vegan makeover. These slip-ons come in a range of colors and, like the Arizona, they're completely waterproof, which makes them perfect for walking along those sandy shorelines.
Should we buy vegan Birkenstocks?
Okay, so now we've seen Birkenstock's vegan shoe range, and probably all agree that they look pretty damn snazzy, it's time to get to the question of whether or not we should actually buy them.
The argument I've been hearing is very similar to the one that rages over the cosmetic industry; namely should you support a brand that isn't 100% vegan in ALL areas of their business. It's a reasonable enough topic for debate, so let's debate.
I want to hear what you think about the subject in the comments below. Don't be shy! Tell me whether or not you think we should support a brand that uses so many other animal products in its non-vegan lines.
Now, it wouldn't be fair of me to ask you what you think without giving you my own opinion first, so here goes.
Personally, I would buy vegan Birkenstocks. While I completely understand the argument against doing so, I think it's also important to remember that there are, for want of a better expression, bigger fish to fry.
Buying the vegan version of Birkenstocks also sends the company a clear message; there's a market for these products. Sure, I get that there are entirely vegan shoe manufacturers you can support (and should), but the fact that we could potentially influence a well-established leading brand like Birkenstock shouldn't be underestimated.
The more major fashion lines that jump on the vegan bandwagon, the better, in my opinion.
I know the "veganisation" of everything is commercially driven, but I don't really care. Providing that fewer animals are harmed, awareness is raised, and the wider public begin to act more compassionately because of the increased publicity, I'm all for it.
Naturally, this is all about personal choice, which is why I've asked you to comment. I'm genuinely interested in hearing what you have to say. So, come on, let me know. I can't wait to hear from you!
Save this to Pinterest!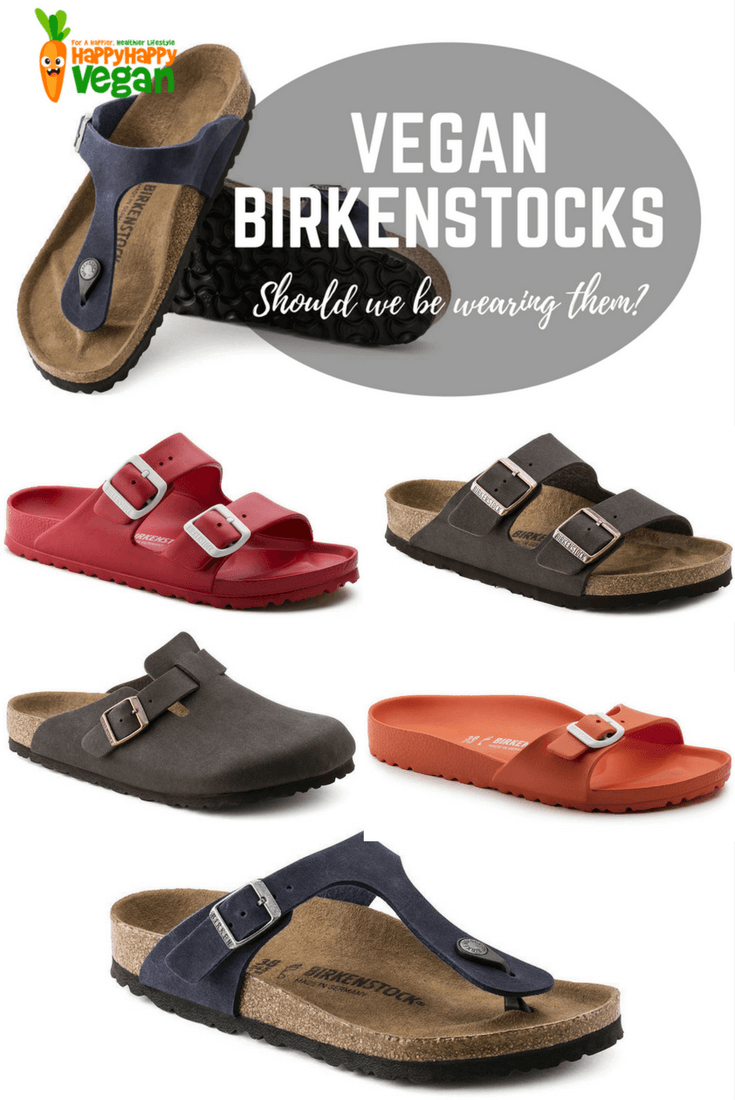 ABOUT THE AUTHOR
Lisa Williams is a committed vegan, passionate animal welfare advocate, and keen follower of too many v-friendly food blogs to mention.
She started happyhappyvegan.com back in 2016 because she felt there was a need for more straightforward information on plant-based living. Back then, too many sites seem to either concentrate solely on recipes or be too intimidating or inaccessible for the v-curious and she wanted to change that. The landscape is certainly a whole lot different now!
Lisa lives in Sussex with her husband and their three-legged wonder dog, Mable.