Best winter boots for vegans quick look…
Best vegan friendly winter boots for women
[amazon table="31893″]
Best non-leather boots for men
[amazon table="31892″]
With the change in seasons, now is the time to get your winter wardrobe in order. If you've been vegan a while, you'll know that finding a great pair of vegan winter boots can be a challenge.
Pre-vegan, leather was king when it came to quality, but once you're aware of the cruelty behind this material, it makes choosing to purchase it an impossibility.
With a variety of cruelty free winter boots available on the market, you want to be sure that they're going to keep your feet both warm and dry, as well as lasting the distance. So if you don't know your vegan duck boots from your vegan winter hiking boots, don't worry, we've got you covered in our vegan winter boots buying guide.
What's wrong with leather?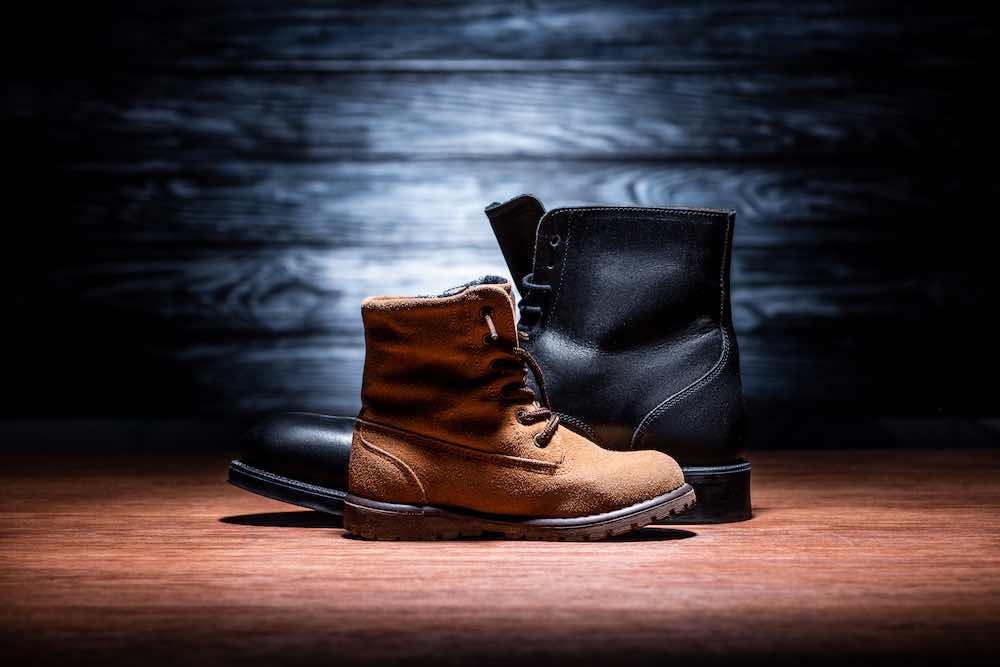 Leather is the skin or hide of an animal. It can be made out of a range of animals' skins such as sheep, lambs, goats, pigs, horses, deer, kangaroos, alligators, crocodiles, elephants, cats, dogs, or snakes. The most common skin used globally is cow hide.
While you might assume that leather is a by-product of the meat and dairy industries, that it is using hides that would otherwise go to waste, unfortunately this isn't true.
The leather industry exists in its own right as a very lucrative and highly profitable business and the majority of leather sold in the world today comes from animals that were slaughtered primarily for their skins.
Each year, over a billion animals are slaughtered for leather. The majority of leather sold in the US and Europe comes from countries such as India and China, where there are no animal welfare laws or, if laws do exist, they are not enforced.
India's leather industry is responsible for 12.9% of global leather production, equating to an annual production of around three billion square feet of leather. This is used to produce 9% of the world's footwear.
Employing over three million people, the Indian leather industry is the second largest producer of footwear and leather garments in the world, and the fifth largest exporter of leather goods and accessories.
Investigations into the Indian leather industry by organisations such as PETA have revealed shocking abuse of cows that would make any kind person think twice before purchasing products made from this material.
Most consumers are not aware that leather goods that come from China are often made from the skins of dogs and cats who are routinely tortured and skinned alive. It is estimated that China slaughters around two million cats and dogs each year.
Another equally disturbing fact is that the form of leather known as 'slink' – highly prized due to its softness – is made from the skin of unborn calves.
Even if leather goods are manufactured in the US, Italy, or any other country, the leather is usually sourced from India or China.
So, while wearing out leather shoes you had prior to being vegan is okay if you feel comfortable doing so, please help the animals by choosing vegan-friendly footwear when you need to purchase a new pair.
READ NEXT: BEST SILK-FREE NECKTIES
What kinds of materials are used in vegan boots?
Vegan boots are made without any animal materials or by-products such as leather, wool, silk, fur, feathers, shearling, or suede. In place of these non-vegan materials, vegan boots are fabricated from synthetic or "man-made" items.
Some of these items include microfibre, polyurethane (PU), jute, bamboo, hemp, cotton, Gore-tex, cork, natural and recycled rubber, and even up-cycled materials such as old tyre tread or plastic bottles.
Most vegan leather is made out of polyurethane (commonly referred to as PU leather), which is a type of plastic that is layered thinly and then bonded to a cotton backing.
Being a plastic, this material scores badly in the environmentally friendliness stakes; however, many enterprising vegan businesses have started developing and producing vegan leathers that are made out of natural products such as pineapple (this is called Pinatex) and there's even vegan mushroom leather!
Check out this video all about the making of mushroom leather:
How can I be sure that my boots are vegan?
Unless you see a label or product description that says "100% Man-Made Materials", "100% Synthetic" or of course "Vegan", you should assume that the pair of boots you're looking at is made out of animal-based materials.
Thankfully, if you're buying boots in person, shoe manufacturers usually provide detailed information on what their footwear is made out of via symbols that are printed either in the inside foot bed or sewn in as a label on the shoe/boot tongue.
Here's what these symbols mean:
So for example, the pair of boots you're looking at will show the first three symbols; upper, lining and inner sole, and outer sole. Next to these symbols will be one of the material symbols. If the 'coated leather' symbol is next to the 'upper' symbol, then you know that the upper of that particular pair of boots is made out of coated leather and therefore, not vegan-friendly.
It's usually safe to assume that when the manufacturers indicate the use of textiles or other materials, that these are suitable for vegans.
Watch out for fur!
In recent years, anti-fur campaigners have exposed certain manufacturers advertising the fur trims on their merchandise as being faux-fur when in fact, they have been real furs that have come from animals like racoon dogs or cats from China.
So how can you be sure if the fur is real or fake? There are four tests that you can do to try and determine if something's made out of real or faux-fur. Only two of these tests are suitable to be conducted inside a shop.
These two tests are:
The 'Feel' Test: Roll the fur in between a finger and thumb. Real fur feels soft and smooth and will glide easily through your fingers. Fake fur feels coarser.
The 'Look' Test: First, blow on the fur so that it divides then look at the individual hairs. In real fur, there will be different lengths of hair and these will be still attached to the skin, which is now leather. The individual hairs in fake fur will usually be uniform in length and colour.
The other two tests involve pressing a pin through the base where the fur is attached (if the pin goes through easily, then it's faux-fur) or cutting off and burning a few of the fur hairs (real fur smells like human hair when burnt, faux-fur melts and smells like plastic).
You can see why these two tests are obviously not suitable to carry out in a shop, but they could come in useful if you're already got some items at home that you want to check.
How do vegan boots compare to non-vegan boots?
The use of different materials is the most obvious difference when it comes to vegan versus non-vegan boots. The good news is that that today, although vegan boots eschew the animal products, they've come a long way on keeping up with style and functionality.
That means that if you need a vegan walking boot for example, there's a good quality and attractive option available.
There are many footwear companies out there now that offer both vegan and non-vegan ranges, like Dr. Marten for example (see our review of their vegan men's winter boots below). So, some brands you used to love before being vegan can still be relied upon to offer high-quality options that are cruelty-free.
How to select your perfect pair of boots
The first thing to consider before making your boot purchase is functionality. What types of conditions do you need your boots to handle? Maybe you just need a cute and cosy, casual pair for wearing around the city? Or perhaps you need something more robust to protect your feet from snow, ice, mud and rain? Don't worry; we've got you covered for both options in our review section.
But while you reflect on that, here are some other things to think about:
Waterproof vs water resistant

If you're going to be in snow or very wet conditions, then you'll definitely want to go for a waterproof option. Water resistant boots are okay for a little bit of rain. Be careful not to mistake water resistance for waterproof because these aren't the same thing.

Sizing

Some footwear manufacturers will offer half sizes, which is great if you aren't a perfect size, especially when you're buying a walking boot. Our reviews let you know if you should size up or size down when no half-sizes are offered.

Warmth

Boots with faux fur liners and inserts will provide the most warmth for your feet. If you need to accommodate thick socks, you might consider sizing up as well.

Comfort

If you're selecting boots for walking, comfort will be an important factor. The comfort level can be impacted by the thickness of liners and inserts, the flexibility and breathability of the materials used, and whether or not the boot can be adjusted to provide more ankle support etc.

Breathability

The last thing you want when wearing boots is sweaty feet. The issue is that the more waterproof or resistant a boot is, the less breathable it will usually be, simply down to the materials used. This is something to weigh up in your decision.

Zip or lace? Or both?

A zip makes getting your boots on and off a quick process, but laces can help you get a snug fit. Or there are boot options that include both! That means you can adjust your boots to fit perfectly with the laces and then just use the zip for getting them on and off.

Traction

The outer sole of your new boots is important to look at if you live somewhere that has ice or snow.

Weight

Certain materials will weigh more than others. When looking for a snow or a walking boot there are lightweight options that provide warmth, are water resistant and aren't clunky or cumbersome.

Price

As with anything in life, you get what you pay for.

If you need boots to stand up to tough winter conditions, and you want them to last for more than one winter, you have to select boots that are well designed and feature high-quality materials. You should expect to pay more for this kind of product. If you demand less from your boots – say you just want something casual and warm – these can usually be purchased for less than a more technical boot.
Vegan winter boots: Our reviews
The great thing about winter boots is that they never go out of style. Choosing a good quality pair of boots with a classic look should allow you to get a few winters use out of them. Let's check out some examples we've handpicked just for you, starting with the women's range.
Vegan winter boots for women…
[amazon table="31893″]
Spring Step Women's Boisa Winter Boot
First up on our list of vegan friendly winter boots is this stylish offering from Spring Step. Not only do they withstand the cold and snow, they're really warm and comfortable too.
The faux fur lining is the key to keeping your feet cosy. This makes it a perfect winter boot, but not one that adapts well if you're looking to wear it in the spring and summer. The sizing in these boots is spot on too, so they can easily accommodate a nice thick pair of socks to keep your feet extra toasty.
I love the high-quality look of these boots; there's a selection of four gorgeous colours of vegan leather and the small heel (which features shock-absorbing technology) makes it a great boot for dressing up or down, without risking your neck in bad weather.
While these boots are 100% vegan, it's probably good to know that the Spring Step brand also makes non-vegan footwear as well. So bear this in mind when perusing their winter range.
WHAT WE LIKE:
✅ The faux fur gives the warm factor for cold feet
✅ They're versatile – dress up, dress down
✅ Good quality, well made
✅ Comfortable for walking in
WHAT WE DISLIKE:
❌ Water resistant, not waterproof
❌ Lining is too hot to use in Spring or Summer
❌ Watch out for the brand's non-vegan footwear
Kamik Women's Momentum Snow Boot
Snow can make any landscape picturesque, but you sure don't want it getting in your shoes while you're out enjoying the great outdoors. Enter vegan snow boots!
When looking for non-leather snow boots, you'll want something that's comfortable for walking in, has great traction on slippery surfaces, is waterproof and is easy to get on and off. These snow boots from Kamik almost tick all the boxes.
There's an unbelievable 12 colours to choose from in the Momentum Snow Boot range; there's bound to be one to suit every taste. The sizing is good, so you can fit a pair of thick socks in, which would probably be a good idea for these boots as the insulation factor is lacking due to the thinness of the heel.
Features this boot has going for it is that it's lightweight and the traction is good, meaning you won't come a cropper if you encounter any ice. It does have a wide upper mouth, making it difficult to wear the boots under jeans or padded trousers but it's a perfect option to wear overtop of close fitting leggings.
While these boots might make a stylish après-ski option, you wouldn't want to use them for long hikes. Some users have reported a lack of arch and ankle support and that the heel is uncomfortable because, although it appears to be round from the outside, inside the boot it's a square-ish shape.
If looking for added comfort from these boots, I'd recommend adding an insert. And as far as ease of removal, the liner in these boots isn't sewn in, which means it comes out every time you take them off.
WHAT WE LIKE:
✅ Attractive – the boots look good
✅ Good sizing and room for thick socks for extra warmth
✅ Lightweight
✅ Good traction on slippery surfaces
WHAT WE DISLIKE:
❌ Uncomfortable – square-feeling to the heel inside the boot and foot bed is hard
❌ Liner isn't sewn in, often pulls out when removing boot
Jambu Ontario Weather Ready Rain Boot
These Jambu boots are the first of two vegan duck boots in our review of animal friendly boots for women. And, if you're wondering what on earth a duck boot is…
It's basically a waterproof ankle boot that has a rubber section on the bottom and a waterproof or water resistant textile on the top – so they're pretty much the amphibious lovechild of a welly and a walking boot!
We love these boots because firstly, they are a cruelty-free duck boot option. Many of the non-vegan duck boots on the market feature leather uppers. Not only do Jambu boots look gorgeous, they're also high quality and fit perfectly.
The rubber bottoms ensure your feet stay dry and they also feature a comfortable memory foam foot bed, meaning you'll be able to walk in wet weather without getting soggy toes or sore feet. The great traction from the rubber sole makes them the perfect vegan friendly winter boots for all terrains.
One of the only downsides to these duck boots is that they're not that well insulated; however, you can easily fit in a chunky pair of socks with these, which will ensure warm and dry feet in any weather.
WHAT WE LIKE:
✅ These boots look good
✅ Memory foam foot bed makes them really comfortable
✅ Great quality
✅ Perfect fit
✅ Good traction on all terrains
WHAT WE DISLIKE:
❌ Could be better insulated
Spring Step Women's Yamma Winter Boot
Here with another offering from Spring Step, are the Yamma warm vegan winter boots. Similar to the Boisa Winter Boot, these vegan leather pull-on booties provide comfort and warmth, and they look great while doing it.
They're a perfect vegan option for a warm, low-rise boot that works well for any casual look, pairing well with jeans.
These vegan leather boots are water resistant and they're really comfortable for walking in, making them a great option for wintery countryside excursions or jaunts round the city.
With three colours to choose from, you'll probably want to order a size up on these as they run about ½ a size small.
WHAT WE LIKE:
✅ Attractive, casual boot option
✅ Comfortable to walk in
✅ Faux fur provide insulation and comfort
WHAT WE DISLIKE:
❌ Sizing runs a bit small
DailyShoes Women's Warm Rubber Rain Boots
Snow? Rain? Mud? These duck boots offer wallet-friendly protection against the worst that winter's got to throw at your boots.
The problem however, is trying to find the right size. According to reports from other buyers, the sizing on these boots is about two sizes out. So if you like the look of them, try for two sizes bigger than you would normally buy.
If you're able to determine the right size for you, these should provide a good fit, due to the side zip and front lace, which allows you to tighten the boots to fit your ankle size. Your feet will also be kept warm with the faux fur liner.
These boots are waterproof so something to bear in mind is that while they may be perfect for a casual stroll in bad weather, the lack of breathability can lead to sweaty feet if you use them on an extended hike.
WHAT WE LIKE:
✅ Good fit with front lace and side zip
✅ Faux fur provides warmth and comfort
✅ Affordable
WHAT WE DISLIKE:
❌ Sizing is potentially two sizes too small
❌ No breathability can cause feet to sweat
❌ Quality is lacking, but you get what you pay for
❌ If sizing is out, these boots are uncomfortable to walk in
So that's a roundup of women's vegan winter boots. Let's see what's on offer for men…
Men's vegan winter boots
[amazon table="31892″]
Dr. Martens Men's 29
Dr. Martens have always been the epitome of cool, and these non-leather winter boots for men are no exception. While traditionally Dr. Martens have been offered in leather, it's great to see that the brand provides a vegan-friendly option too.
This stylish boot comes in two shades of cherry red and is perfect for dressing up or down.
While everything is hunky dory in the style stakes, these boots can be a little difficult to wear if you have a wider foot.
Also, if you have a large instep the top of the boot doesn't open enough to be able to comfortably fit your foot. If anyone from Dr. Martens is reading this, it would also be great to have the option of half sizes for a perfect fit!
Overall, these are the kind of high-quality offering that you'd expect from Dr. Martens, although the vegan leather does start to crinkle very fast, losing their brand new shoe look quickly – for some this could be a pro or a con.
WHAT WE LIKE:
✅ Nice color
✅ Stylish, classic boot to dress up or down
✅ Good quality
✅ Comfortable to walk in
✅ Weatherproof
WHAT WE DISLIKE:
❌ Ankle width is tight if you have larger ankles
❌ Not suitable for a large instep
❌ Soles squeak on certain floor materials
❌ No half sizes offered so fit can be off
WHITIN Men's Insulated Cold-Weather Boots
These insulated vegetarian winter boots from Whitin look more like trainers than traditional boots; however, they are very lightweight, water-resistant and work perfectly in light snow.
There's a range of colours to choose from and these would definitely make a perfect casual and outdoor choice of footwear.
The sizing is spot on but they're only offered in full sizes, so other buyers suggest sizing up if you need a half size more.
The faux fur trim interior provides comfort and warmth surrounding your foot, but for added comfort, I'd suggest inserting some insoles because the sole lacks padding. This addition would provide you with a perfect pair of warm, comfortable and water-resistant vegan walking boots.
WHAT WE LIKE:
✅ Lightweight
✅ Fits true to size
✅ Good-looking boot
✅ Available in a wide range of colors
✅ Shoe lining is warm
WHAT WE DISLIKE:
❌ Sole has little padding
❌ Not fully waterproof
London Fog Men's Holborn Waterproof and Insulated Cold Weather Snow Boot
This is the first of two London Fog options in our review. With the rubber bottom, this pair of Holborn boots almost looks like a duck boot for men, making it perfect for wet weather and snowy conditions.
We love these boots for three reasons; the waterproof rubber sole that also provides great traction, the warm and comfortable lining, and the zip closure that makes them easy to get on and off quickly.
The only downside to these is that there are no half sizes available and sizing up makes them a bit too big according to other users; however, this might leave room for a thick pair of socks, upping the insulation ante.

EDIT: WE ARE NO LONGER RECOMMENDING THESE BOOTS AS THE UPPERS ARE SUEDE, NOT SYNTHETIC MATERIAL AS PREVIOUSLY ADVERTIZED
WHAT WE LIKE:
✅ Great traction for winter terrains
✅ Well insulated for general winter conditions
✅ Comfortable
✅ Easy to get on and off
✅ Waterproof
WHAT WE DISLIKE:
❌ Sizing is a bit too big
London Fog Men's Woodside Waterproof and Insulated Cold Weather Snow Boot
Like their Holborn contemporary, these Woodside snow boots have the waterproof rubber bottom and sole, which keeps your feet well protected from the wet. The top half of these boots however, looks just like a traditional walking boot.
Although you won't be able to slip these boots on and off as easily as you can with the Holborns, the laces mean that you can tighten the boot to get a good fit and more ankle support.
As you'd expect from a walking boot, these are a little more stiff (ankle support) and don't seem to be as lightweight as the Holborn version, but they'll definitely be able to handle whatever weather winter throws your way.
Again, there aren't any half sizes available in these boots, so due to their snug fit, other users have suggested buying a size up if you plan on wearing thick socks.
EDIT: THESE BOOTS ARE NO LONGER BEING RECOMMENDED AS THEIR UPPERS ARE SUEDE AND NOT SYNTHETIC MATERIAL AS PREVIOUSLY ADVERTIZED
WHAT WE LIKE:
✅ Snug fit
✅ Looks great
✅ Great casual winter walking boot option
✅ Well priced
WHAT WE DISLIKE:
❌ Chunky
❌ No half sizes
Sorel Men's 1964 Premium T CVS Snow Boot
These non-leather snow boots from Sorel sport great vintage style, making them a trendy option for all you winter fashionistas.
Despite their thick insulation, these boots are really lightweight. They'll keep your feet warm and the rubber shell bottom, paired with the waterproof waxed canvas will keep out the rain.
Overall, these Sorel boots give the impression that they are well made and the design has been well thought-out. The felt liners not only keep your feet toasty, they remove easily so you can wash and dry them if needed.
The only downside to these boots is that getting them off can be a little challenging due to their high lace up design.
WHAT WE LIKE:
✅ Surprisingly lightweight
✅ Well-made
✅ Removable liners makes for easy drying
✅ Well insulated
WHAT WE DISLIKE:
❌ Not so easy to get on and off
Best winter boots for vegans recap…
Best vegan friendly winter boots for women
[amazon table="31893″]
Best non-leather boots for men
[amazon table="31892″]
The best vegan winter boots
So what are my picks from both the women's and the men's vegan winter boot categories?
Ladies, if you buy only one pair of boots this winter, I'd go for the Jambu Ontario Weather Ready Rain Boots. Not only are they a classic style but they tick all the boxes for winter comfort; waterproof, well insulated and comfortable to walk in. These could easily be dressed up or down, making them a versatile option for city-slickers and country-dwellers.
They're also really affordable and high-quality.
And for the men, my top pick is the Sorel Men's 1964 Premium T CVS Snow Boot. While you may not be able to wear these to work in an office, they look great for weekend winter wear.
These boots are made for walking! They've got great insulation, which provides warmth and comfort and they are pretty lightweight, despite their solid appearance. The rubber sole provides all the traction and waterproofing required to make this a perfect vegan winter boot in my book.
No matter which pair of winter boots you decide to purchase this year, remember, keep them kind! Choose vegan!
Save to Pinterest!
ABOUT THE AUTHOR
Emma is a blogger, life-coach and qualified PR professional and journalist, who also happens to be a passionate vegan, animal and nature lover.
She lives in a small village in France with her husband, daughter and their rescue animals at the Barefoot Vegan Farm and Animal Sanctuary. As a writer, Emma's work has been featured in other popular well-being and spiritual websites such as Elephant Journal, IVORY magazine, and she's part of the Huffington Post's team of regular bloggers. Her writing was also included in the Tiny Buddha book 365 Love Challenges from Tiny Buddha, released in 2015 by HarperCollins.