[amazon table="27971″]Whether you splash some in your morning espresso, pour it over your granola, or drink it by the glass, soy milk is a great source of protein and full of essential nutrients for vegans. Unfortunately, a lot of the soy milk sold in grocery stores contains unnecessary sugar and additives. So, in order to get the best quality non-dairy milk, you really need an at-home soy milk maker.
Making soy milk at home is easy if you have the right tools. A soy (or soya) milk machine grinds and cooks the beans, nuts, or seeds of your choice all in one unit. If you're a raw vegan, some milkmakers can be used without heat to make delicious milk from soy, almonds, cashews, or coconut.
Since a soya milk maker isn't exactly a common household kitchen appliance, you may feel at a loss for where to begin. Our guide will discuss the benefits of having a soy milk machine, how they work, and what to look for when shopping. Then, we'll review eight of the most popular gadgets on the market so you can find the best soy milk maker for you.
But first, we'll start with the very basics:
What is soy milk?
Soy milk was invented in China over 2000 years ago. It quickly expanded and became a staple of traditional cuisine in cultures around Asia. Though soy milk was once uncommon outside of Asia, it is now consumed around the world as a source of lactose-free, plant-based protein.
As you've probably gathered, soy milk isn't actually "milk." Instead, it's the product of dissolving finely ground soybeans in water. The resulting liquid is white and creamy, similar to cow's milk in taste and nutritional profile.
Today, soymilk is made from the whole bean or the soy protein isolate. Soymilk made from the whole bean will provide more nutritional benefit than milk made just from soy protein. Though many vegans think of soymilk as primarily a protein source, it also contains many other essential nutrients like vitamins A, K, and E, which leads us to…
What are the benefits of drinking soy milk?
Soy milk is a nutritional powerhouse. In addition to providing protein with a complete amino acid profile, soy milk contains vitamins and minerals necessary to life-long health.
Research links soy milk consumption with benefits like boosting the immune system, improving blood vessel function, and promoting weight loss. For men, consuming soy milk can reduce the risk of prostate cancer. For women, soy milk has been linked with a lower risk of breast cancer and fewer menopausal symptoms.
Over the past few years, there has been some controversy over the safety of soy milk. Much of this controversy is over isoflavones–a compound similar to estrogen that is found in some soy products. Consuming isoflavones in large amounts may lead to impaired fertility, thyroid dysfunction, and the growth of cancerous cells.
When it comes to soy, moderation and quality are key. Nutrition scientists recommend moderate consumption of minimally processed soy products for better health. "Minimally processed" in this context means made from the whole soybean, not just the soy protein isolate. Examples include miso, tofu, and–yes–homemade soy milk.
For vegans, soy milk can provide vitamins D and B12, which we are often deficient in because we don't eat animal products, but only when fortified. Therefore, if soy milk is your primary source of these essential vitamins, it will be necessary for you to take separate B12 and Vitamin D supplements if you make your own soy milk at home. Without the fortification, your homemade soy milk will not contain the same nutrients as a shop-bought product.
How does soy milk compare nutritionally to cow's milk and other plant-based milk?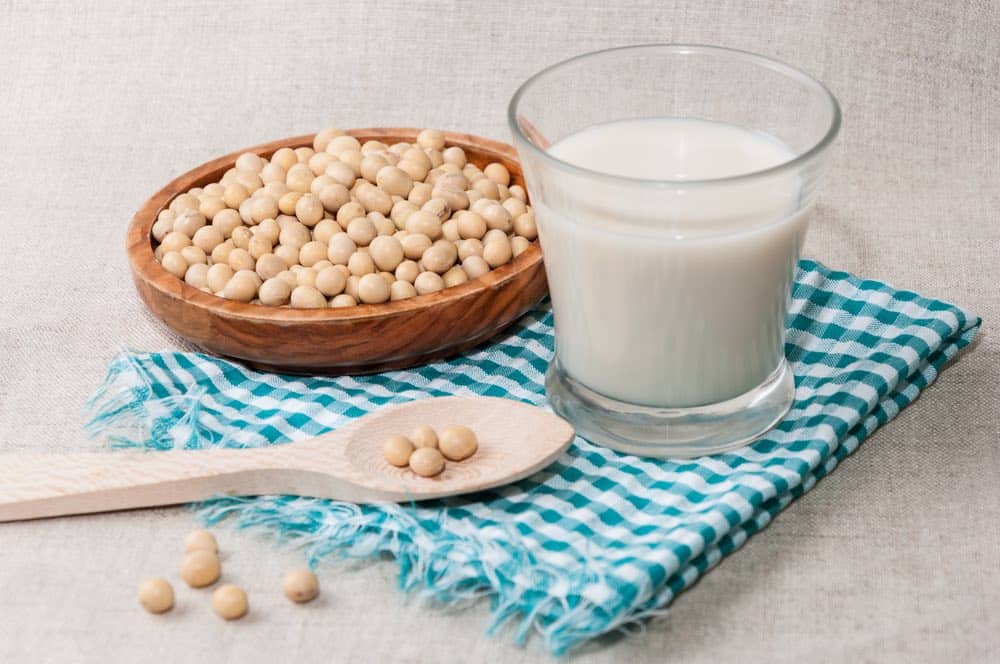 If you're not vegan, swapping dairy milk for soy milk may seem unnecessary if you're eating a healthy diet. If you're on a plant-based diet, you may also wonder about the benefits of soy versus other kinds of milk. (By the way, you don't have to choose: you can use your soy milk maker to make nut milk too!)
Soy milk has a similar nutritional profile to cow's milk in terms of protein. However, soy has fewer calories, less fat, and no cholesterol. Be aware, however, that soy milk that isn't fortified does not contain calcium or vitamin B12.
Other dairy alternatives–like almond or coconut milk–are lower in protein than soy milk. Rice milk is another option, but it is very low in protein, high in carbohydrates, and not as nutritionally rich as soy or nut milk.
If you're not a vegan, there is another reason to consider switching to plant-based milk: you may be lactose intolerant without knowing it. About 75% of the world's adults cannot properly digest lactose. If you're experiencing persistent digestive issues, try swapping out some of the dairy in your diet for a plant-based alternative and see if it makes a difference in your wellbeing.
Why should I make soy milk at home?
There are three reasons to make your own soy or other non-dairy milk at home: nutrition, taste, and cost. Many people who start making their own vegan milk are shocked at how delicious, healthy, and inexpensive DIY-ing it can be.
Though store-bought soy milk has many of these health benefits, it also has a lot of sugar and additives. Some brands of vanilla soy milk have as much as 16 grams of sugar per cup. Even the unsweetened varieties still contain preservatives and thickeners like gellan gum which can cause digestive issues by altering the bacteria in your intestines.
By making soy milk at home, you get all the goodness without any of the unnecessary ingredients. Fresh soy milk is delicious on its own—no sugar or chemical flavorings needed! Once people start making their own soy milk, they often can no longer stand the taste of grocery-bought varieties.
Making your own soy milk can also save you money in the long term. Once you have the equipment, making soy milk only requires inexpensive soybeans and water, so if you get through a lot it's easy to see how those savings can mount up.
How does a soy milk maker work?
At one time, making soy milk at home was a painful process, to say the least. Soaking, peeling, grinding, cooking, draining, and filtering by hand took hours. A soy milk maker does these steps automatically so you can enjoy your fresh soy milk with less effort in a lot less time.
To generalize, milkmakers have two functions: grinding and heating. Some soya milk machines may require you to pre-soak the beans, while others can grind them from dry. The milk maker then heats the soy and water mixture to make a smooth drink that's easier to digest.
The final step is usually filtering. Some soy milk makers grind the beans so fine that no filtering is necessary. However, most people find the texture of their homemade milk improves when it is filtered through a fine sieve, cheesecloth, or nut milk bag.
How do I use a soybean milk maker?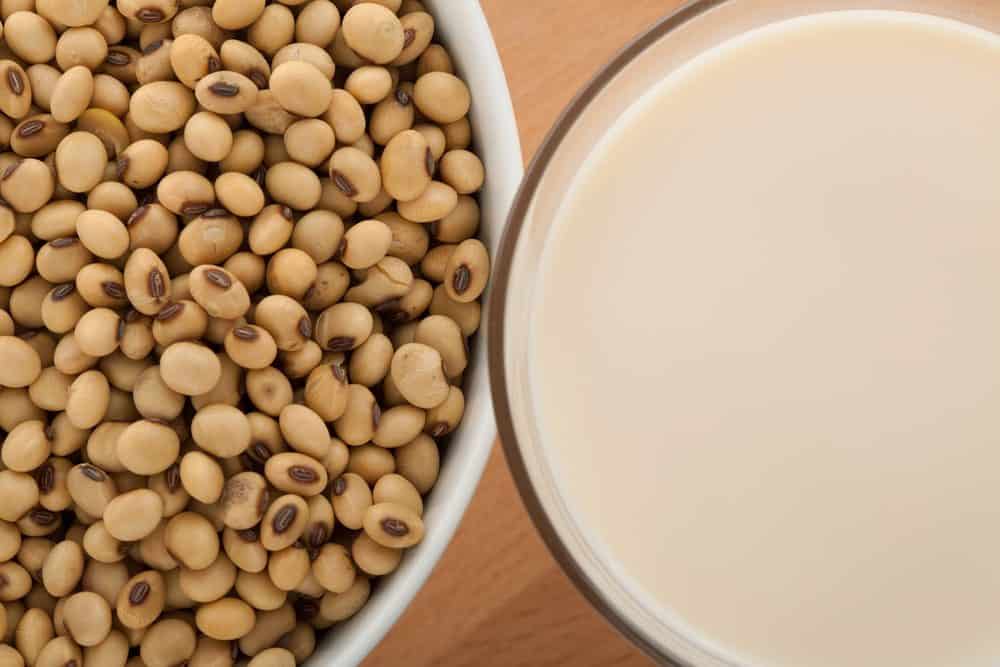 It's pretty easy! Soy milk makers for home use should come with plenty of instructions and recipes to help you get started with making your own dairy-free milk. However, here are some basic steps so you know what to expect:
1. If required, soak the soy beans (or almonds, cashews, sunflower seeds, etc.) for 6-8 hours.
2. Add the soybeans and water to the soy milk maker
3. Select the desired setting.
4. When the maker has finished cooking, filter out the leftover soy particles.
5. Sip and enjoy!
Again, these steps may vary depending on the kind of soy milk maker that you buy. For example, some may allow you to use beans that have not been pre-soaked. Others may give you options to make either hot or cold beverages or skip filtering.
What should I look for while shopping for milkmakers?
As you'd expect, not all soy milk makers are created equal, so it's important to have a checklist of things to look out for when shopping. Here are some of the key things to bear in mind:
Capacity:

Most milkmakers produce between 1 and 2 liters per batch. If you have a whole house full of soy lovers, you may want to go for a larger model.

Steel components:

Since soy milk makers use heat, any part of the machine that comes in contact with the soy milk should be made of stainless steel. Heated plastic may release harmful compounds called dioxins which can leech into any food it comes in contact with.

Filtration requirements:

Some soy milk makers contain internal filters. This can be more convenient, but many people have found these filters get clogged quite easily. More than likely, your milk maker will require external filtering. To do this, you simply pour the fresh milk through a sieve or cheesecloth into a glass or pitcher.

Included parts:

If you are new to the world of home milk making, you will likely want to buy a soy milk maker that includes all the necessary components like filters, cleaning pads, and instruction books. Some companies even send you free soybeans with your purchase!

Hot/cold functions:

Soy milk makers do more than make milk: you can use some models to make tofu, baby food, soups, and porridge. For raw vegans, the option to make milk without heat is an appealing function. Not every soy milk maker has a "cold" setting, so double check if this is important to you.
What are the best soy milk makers on the market?
Now that you've got an idea of the available features, you're ready to start shopping for the best soy milk maker for you. Here are our reviews of the best soy milk machines on the market.
SoyaJoy G4 Soy Milk Maker
SoyaJoy G4 Soy Milk Maker can make 1.7 liters of delicious soy or nut milk in 20 minutes. The stainless steel interior includes a high-speed grinder to help you get more milk from your soybeans. The easy-to-use buttons are pre-set for making hot or cold milk.
This SoyaJoy model also comes with a temperature sensor that prevents the milk maker for overheating. Not only can an overheated unit burn your soy milk, but it can also be a fire hazard. SoyaJoy G4 Soy Milk Maker heats evenly from the bottom of the unit, yielding a smoother, tastier milk.
Customers love how quiet the SoyaJoy G4 Soy Milk Maker is. This is a huge plus for people who like soy milk with breakfast: a loud grinder will definitely disturb your peaceful morning. SoyaJoy's many happy customers also like that the G4 Milk Maker is stainless steel and easy to wipe clean.
Because this soya milk maker does not have an interior filter, you will have to do this yourself. Some customers complained that the strainer included with the Soyajoy G4 Milk Maker is small and takes too long to use. Even after filtering, some people found the milk was "pulpier" than they like.
Even though most customers seemed happy with the yummy milk they made, they were disappointed in the longevity of the SoyaJoy G4. This model may not be very durable. A lot of disappointed customers report that theirs stopped working in less than a year.
WHAT WE LIKE:
✅ Cooks in 20 minutes
✅ All stainless steel interior
✅ Temperature sensor
WHAT WE DISLIKE:
❌ Included strainer is too small
❌ Makes a somewhat "pulpy" milk
❌ May not be all that durable
Joyoung Soymilk Maker with Timer
One huge draw of the Joyoung Soymilk Maker with Timer is that it grinds soybeans so fine no filtration is needed afterward! The 0.9 to 1.3-liter capacity works for both singletons and soy-loving families. The timer will keep milk warm for up to 6 hours after cooking too.
Customers love the rich, creamy quality of the milk produced by their Joyoung Soymilk Maker. They also love that no filtering is required. The auto-shut off timer is great for busy people and couples who wake up at different times.
For English speakers, the Joyoung Soymilk Maker will involve some hurdles. The included instructions are only in Chinese, but you can email the company for a digital version in English. Even so, the button panel on the unit is only in Chinese. A few customers say they struggled to learn and remember the symbols in order to use their soy milk maker correctly, but for most this won't be an issue.
Despite the language barrier, many owners enjoy using their Joyoung Soymilk Maker daily. There were some reports of receiving damaged products, but the company seems prompt in responding.
Though looks are subjective, the brown and bronze color of this soy milk maker isn't particularly attractive. This may not matter to you, but if you like your appliances to match, you may have a hard time coordinating this one. That being said, this is a quality piece of kit and well worth looking at if you are serious about your soy!
WHAT WE LIKE:
✅ Makes wonderfully rich, creamy milk
✅ No filtering needed – a real advantage
✅ Timer keeps milk warm for hours
WHAT WE DISLIKE:
❌ Buttons are in Chinese
❌ Some reports of damage during shipping
❌ Brown/bronze may not match many kitchens
Tribest Soyabella SB-130 Soymilk Maker
The Tribest Soyabella SB-130 Soymilk Maker cooks soy milk in as little as 15 minutes. The concealed heating element in the base makes this milk maker safe to use and easier to clean. No more scraping burnt soy gunk off the bottom of a carafe!
Tribest Soyabella Soymilk Maker comes with attachments to convert it into a dry grinder for coffee or spices. The exterior is sleek stainless steel and black. The interior is all stainless steel to ensure the milk stays free of leeched toxins.
Owners of this model like the versatile capacity between 0.8 and 1.3 liters. The ability to make smaller quantities of soy milk is especially appealing to single folks who want a fresh cup of their favorite non-dairy milk each day. The cold setting makes the Tribest Soyabella Soymilk Maker raw-vegan friendly too.
Customers also agree that Tribest's soy milk maker is easy to use and makes very tasty milk. There is no internal filter, so you will need to pour the finished milk through a cheese cloth or included sieve, which is a pity.
The most frequent customer complaint centered on durability: the Tribest Soyabella Soymilk Maker stopped working earlier than some people expected. Also, it may overheat if you try to make multiple batches one after the other. Therefore, those of you who like to make their soy milk in bulk for the week may want to select a different brand.
WHAT WE LIKE:
✅ Cooks in just 15 minutes!
✅ Makes delicious hot or cold milk
✅ Converts to a dry grinder
WHAT WE DISLIKE:
❌ Questionable durability
❌ Requires external filtering
❌ May overheat
MIDEA Automatic Soy Milk Maker
The MIDEA Automatic Soy Milk Maker can make both heated and raw milk. This handy gadget also comes with a tofu box so you can condense your soy milk into homemade tofu. the easy-to-read panel has pre-set buttons for each of the goodies you can make.
All components that contact food are made of safe stainless-steel. The carafe can hold up to 1.3 liters of milk or used to grind dry ingredients, and most customers seem to like the sleek, muted, brushed gold exterior.
The MIDEA Automatic Soy Milk Maker is UL certified for safety. UL is an international organization that helps companies design safe and environmentally friendly products. MIDEA is the only soy milk maker on this list that has this top-notch worldwide safety certification.
On the downside, several customers found that the MIDEA Automatic Soy Milk Maker was difficult to clean and recommend washing it immediately after use. A few people also had issues with the cap getting stuck. This may be a design flaw or the result of sticky, hard-to-clean parts, it's hard to say.
Finally, owners report that the initial grinding process is also quite loud. If you have small children or pets who are sensitive to noise, this soy milk maker may not be the best one to bring home.
WHAT WE LIKE:
✅ UL safety certification
✅ Includes tofu box
✅ Pre-set buttons for a variety of tasks
WHAT WE DISLIKE:
❌ Hard to clean if you don't rinse out straightaway
❌ Cap tends to get stuck
❌ Unit is quite noisy
Sonya Soy Milk Maker Machine SYA19A
The Sonya Soy Milk Maker Machine SYA194 makes up to 1.3 liters of fresh, warm soy milk from either pre-soaked or dry soybeans. Sonya kept it simple with this soy milk maker, opting for durability over lots of functions. The Sonya Soy Milk Maker is also easy to clean.
The carafe of the Sonya Soy Milk Maker Machine is double-layered with stainless steel on the inside and an exterior plastic layer. Unlike many soy milk makers, you won't get burned if you brush up against the machine while it's on. This safety feature is a huge plus for some parents with active and curious little ones.
The design of the Sonya Soy Milk Maker is a little old school: gold and white with hearts. If you're into the retro or vintage look though, this will go great with your decor. Also, there is no option to make cold milk, so raw vegans will have to keep looking.
Lastly, the Sonya Soy Milk Maker does not come with a filter. If you decide this is the best soy milk maker for you, add a sieve, nut milk bag, or cheesecloth to your shopping list if you don't have one on hand.
WHAT WE LIKE:
✅ Durable and easy to clean
✅ Sides stay cool during cooking
✅ Makes soy milk from soaked or dry beans
WHAT WE DISLIKE:
❌ Can't make cold milk
❌ Filter not included
❌ Design may not suit all tastes
Tayama Stainless Steel Soymilk Maker
The Tayama Stainless Steel Soymilk Maker takes 25 minutes to prepare 1.1 to 1.5 liters of soymilk. Unlike many units that only heat from the bottom, the sides of the Tayama carafe also heat for more even cooking during the milk making process.
This soy milk maker works well with either dry or pre-soaked beans, and customers love that Tayama's soy milk maker comes with non-abrasive cleaning pads. The Tayama Stainless Steel Soymilk Maker also comes with an external filter.
Customers have a few recommendations for best success with this soy milk maker. First, wipe it down immediately after use and dry thoroughly. Some people report that their Tayama Stainless Steel Soymilk Maker rusted quickly—perhaps not so "stainless" after all.
Owners of this soy milk maker also encourage people to exercise caution when the unit is on. Apparently, the sides of the carafe get quite hot. Some also complained that the Tayama Soy Milk Maker is too noisy.
Finally, a few people experienced overflowing, so you'll want to keep an eye on this soy milk maker while it's on. However, needing all of these precautions doesn't keep people from loving their Tayama Stainless Steel Soymilk Maker. Meticulous cooks who don't leave dishes in the sink can reap the rewards of this efficient machine.
WHAT WE LIKE:
✅ Multiple heating channels for even cooking
✅ Comes with cleaning pads and external filter
✅ Makes yummy soy milk from dry beans, no need to soak!
WHAT WE DISLIKE:
❌ Should be cleaned ASAP
❌ Sides get hot while cooking
❌ May overflow, be careful when filling prior to use
Presto Pure IAE15 – 1.9 Liter Automatic Soy Milk Maker
The Presto Pure IAE15 has a big capacity for serious soy drinkers: up to 1.9 liters! The sleek stainless steel carafe is easy to clean and stays cool to the touch even while cooking.
This soy milk maker from Presto Pure works with soaked or dry beans. It can make hot milk or raw milk with the "cold" function. Customers also report that it makes delicious milk from a variety of non-dairy foods like cashews, almonds, and coconut.
In addition, owners love that the Presto Pure Automatic Soy Milk Maker is quiet, durable, and clean. There are seven pre-set functions that you can select with the touch of a button. Some busy vegans love that they can make a whole weeks worth of soy milk in one batch.
Even though there aren't many complaints about this soy milk maker itself, some customers were unhappy that it came with a plastic strainer and pitcher. Since heat, plastic, and food don't mix particularly well, you may want to buy metal or glass replacements.
Based on reviews, it also seems that the instructions and recipes for the Presto Pure Automatic Soy Milk Maker left something to be desired. Apparently, the recipes that come with the maker yield pretty watery soy milk. However, once people started using other recipes, it seems they couldn't be happier with this impressive soy milk maker.
WHAT WE LIKE:
✅ Large half-gallon capacity
✅ Easy to use
✅ Self-cleaning function
✅ Variety of pre-set functions
✅ Stays cool and quiet while cooking thanks to its double walled stainless steel body
WHAT WE DISLIKE:
❌ Plastic strainer and pitcher cheapen the product
❌ Included recipes are not the best
Joyoung CTS-2038 Easy-Clean Automatic Hot Soy Milk Maker
Here's another soy milk maker from home-use soybean milk machines specialists, Joyoung. This time it's the turn of the Joyoung CTS-2038 Automatic Hot Soy Milk Maker. With this model, you can make up to 1.7 liters of soy milk in 30 minutes and it comes with a clean stainless steel interior and external filter.
The Joyoung Automatic Hot Soy Milk Maker is designed without a heating tube for easier cleaning and more even cooking. The company also touts that this soy milk maker is "micro-computer controlled," but it's not entirely clear what that means.
Customers love how easy this Joyoung soy milk maker is to set up and use: plug it in, push a button, and you're ready to go. With this machine, people say it's easy to get a high-yield from your soybeans. It seems to handle dry soy beans particularly well, which sets it apart from other models.
English-speaking customers should be aware that the included instructions are only in Chinese, but an English version is available from the company via email. Most people were pleased with these instructions, but others said that they wanted more recipes.
There are a few potential hang-ups with the Joyoung CTS-2038 Soy Milk Maker. First, the white and gold flower design didn't wow everyone. Also, the minimum capacity is 1.5 liters, which may not work for people who want single servings of nondairy milk. The maker won't even turn on if you've filled it below the low water mark.
Raw vegans should also note that you cannot make cold milk in this machine. I guess the name is a bit of a giveaway!
WHAT WE LIKE:
✅ No heating tube makes for easy clean-up
✅ High-yield
✅ Works well with dry beans
WHAT WE DISLIKE:
❌ Minimum 1.5 liters
❌ Makes hot milk only
❌ Included instructions are in Chinese (English version available via email, though)
So which is the best soy milk maker?
[amazon table="27971″]From this lineup, our favorite is the Presto Pure IAE15 1.9 Liter Automatic Soy Milk Maker. We think that this high-quality, versatile machine has the potential to work for a lot of people. In addition to soy, the Presto Pure milk maker can help you make delicious milk from a variety of nuts and seeds, as well as numerous other drinks and dishes.
There's a lot to love about the Presto Pure Automatic Soy Milk Maker: a 1.9-liter capacity, sleek design, durability, and pre-set functions all make it stand out from the crowd. This soy milk machine is a winner whether you want to make hot, cold, dry, or pre-soaked nondairy milk. It's also easy to clean and whisper-quiet, too.
The Presto Pure Automatic Soy Milk Maker is designed for safety as well, with cool sides and a stainless steel carafe. However, the included filter and pitcher are made of plastic and may need to be replaced. Some people also had to look beyond the instruction manual to find good recipes.
Regardless of their product of choice, many vegans who buy soy milk makers say they can't imagine living without one. Drinking soy milk provides essential nutrients and a big dose of plant protein. Once you try making your own, you may never go back to the store-bought stuff again.
ABOUT THE AUTHOR
Lisa Williams is a committed vegan, passionate animal welfare advocate, and keen follower of too many v-friendly food blogs to mention.
She started happyhappyvegan.com back in 2016 because she felt there was a need for more straightforward information on plant-based living. Back then, too many sites seem to either concentrate solely on recipes or be too intimidating or inaccessible for the v-curious and she wanted to change that. The landscape is certainly a whole lot different now!
Lisa lives in Sussex with her husband and their three-legged wonder dog, Mable.