[amazon table="27959″] You knew about avocado toast before it took over Instagram. You'd pick a bowl of guacamole over a bowl of ice cream any day. As a vegan, you eat avocado for the beneficial fats and nutrients, but did you know that avocado oil can also give you gorgeous, healthy hair? Yep, avocado oil for hair is now officially a thing!
In-the-know beauty bloggers and natural hair queens confirm it: avocado oil can do amazing things for your hair. An avocado hair mask can renew moisture and add shine. Using an avocado conditioner may help fix dry ends or even promote hair growth.
The best part for vegans? Natural avocado oil is easy to find in its pure form and it's often minimally processed. That definitely beats all those chemically-laced hair treatments with ingredients you've never heard of.
If you've never heard of using avocado oil for your hair, you're not alone. Here's a quick guide to get you started on integrating this multi-use oil into your natural beauty routine.
What is avocado oil exactly?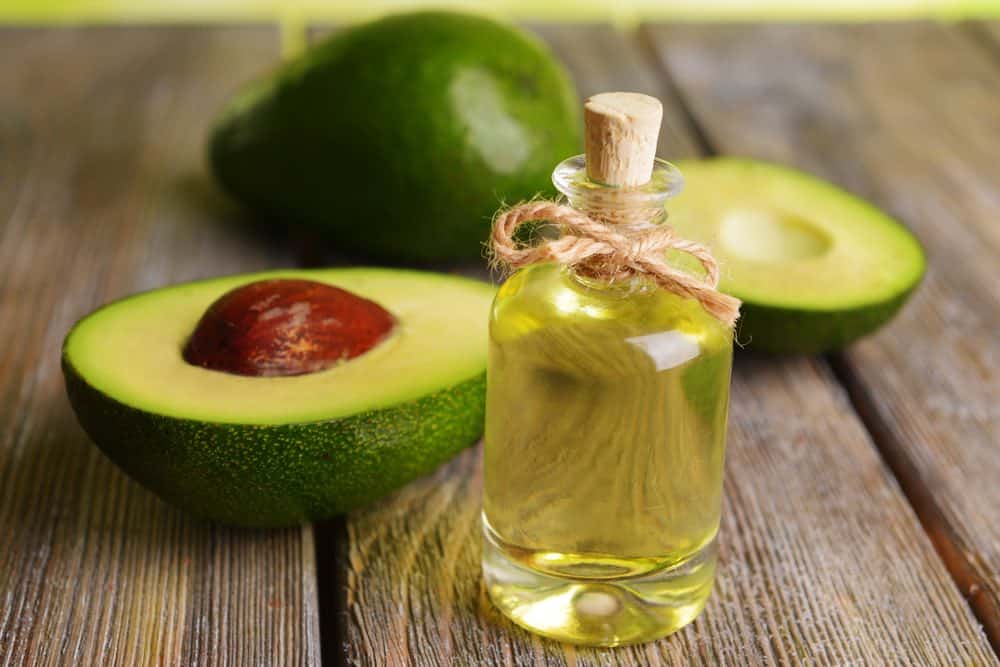 Avocado oil is simply the distilled fat pressed from the avocado fruit. Tragically, you can't make this natural oil by squeezing a few avocados in your kitchen. The process involves using high pressure to distill the purest oil without any green gook.
Avocado oil is different from a lot of oils in that it comes from the pulp of the fruit rather than the seed. This means that many of the nutrients that you can absorb from eating avocado are present in the oil, and it's perfectly safe to use avocado oil for hair and skin treatments too.
What makes avocado the best hair oil?
As we've already covered, avocados have an impressive nutritional profile in addition to being delicious. One cup of raw avocado contains 25% of your daily value of Vitamin C and 31% of your potassium. Vitamins A, B, E, and K are all present as well as minerals like calcium, iron, and magnesium.
Now, there is some debate about how many of these vitamins are preserved in avocado oil. The pressing process may remove some water-soluble vitamins like A and C. However, the fat-soluble minerals will likely be more concentrated in the oil than the fruit.
But the true star of avocado oil is its abundance of monounsaturated fat. Monounsaturated fatty acids absorb easily into the hair cuticle, providing moisture and protection. When used alone or in combination with other whole food products, it can improve your hair's strength, texture, and shine.
How do I use avocado oil for my hair?
This is the fun part! Avocado oil is versatile. When using avocado for hair treatment, you can apply it on its own or make a hair mask with avocado oil. Here are just a few ideas:
Leave-in conditioning: Rub a nickel-size amount into damp hair. Let dry completely and style.

Heavy-duty detangling: Summer's here, which means tangled beach hair. No worries! Just dab a small amount of avocado oil onto stubborn knots, let it absorb, and comb out.

Split end treatment: After styling, rub avocado oil into the ends of your hair to help stop breakage and keep your cut looking fresh.

Deep condition: Mix 2 tbsp. avocado oil with 1tbsp. honey, 1 banana, and 1 avocado. Smear all over your hair, slap on a shower cap, and let sit for 20 minutes or longer before rinsing.

Scalp treatment: Mix equal parts avocado and coconut oil and massage into your scalp to moisturize and promote blood circulation. If you'd like, add a few drops of lavender or peppermint, the best essential oils for hair growth. (Note: Lavender and peppermint can be potential skin irritants so be sure to spot test first.)
What should I look for when buying avocado oil?
First, check the percentage of avocado oil on the bottle. For best results, the avocado oil that you buy should be 100% avocado oil. It's not uncommon for companies to mix avocado with other oils but still label the product "Avocado Oil."
When shopping for avocado oil for topical beauty treatments only, it's fine to buy refined oil. (All of our reviews below are for refined avocado oils.) However, organic, unrefined or "extra virgin" avocado oil is the only kind you should eat!
Some say you can cook with your avocado beauty oil or drizzle it on salads for extra benefits, but this is only the case with unrefined avocado oil. Dietician and whole foods expert Rebecca Wood describes the highest quality unrefined avocado oil as "deep emerald…[with the] pleasing flavor and aroma of ripe avocados." Refined avocado oil has the potential to contain harmful free-radicals that you'd be better off not eating.
Again, refined oil is fine if you only plan to use it in your hair. Refined oil may have more of a brown or tan color and a milder smell than its extra virgin counterpart. Any avocado oil that is cloudy or smells bad has probably gone rancid and shouldn't be used.
Last thing: for best results, keep your avocado oil away from light and heat. Unrefined oils can be stored in the fridge for up to 6 months. Refined oils have a shelf life of about 18 months.
READ NEXT: BEST CRUELTY-FREE MASSAGE OIL 
So, what are the best avocado oils for haircare?
Now you know just how avocado oil can benefit your hair you're probably eager to get ordering. Not so fast! As with almost every other product under the sun, some avocado oils are better than others.
We've put together a list of some of the best avocado oil for hair treatments out there so you don't have to spend hours trawling through hundreds of products.
So, without further ado, let's take a look at our reviews of the best avocado oils for haircare.
Tropical Holistic 100% Organic Cold Pressed Pure Avocado Oil
This pure avocado oil for hair from Tropical Holistic comes in a glass bottle with a little dropper—perfect for making the goodness last! Tropic Holistic 100% Organic Cold Pressed Pure Avocado Oil is made in the USA and free of all preservatives and additives.
Customers have reported that this cold pressed avocado oil works great for preventing dry split ends. It is also light and doesn't leave a greasy residue. The oil itself has almost no aroma, which some people will like and others won't.
Tropical Holistic is an organic avocado oil, and the company claims it is "food safe." Just be aware that it is refined, meaning it may not be the best to eat. However, that doesn't mean this isn't the best hair oil for people hoping to add some extra moisture to their parched locks.
WHAT WE LIKE:
✅ Sturdy glass bottle with dropper
✅ 100% pure and organic
✅ Works well for split ends
Botanical Beauty Mediterranean Avocado Oil
Botanical Beauty's avocado oil is "Mediterranean" because it's made in Italy (though it's not 100% clear where the avocados are grown!). This avocado oil hair treatment is refined, undiluted, and preservative-free. The oil comes in a 4-oz. spray bottle.
In terms of how it performs, happy customers like how easily Botanical Beauty Mediterranean Avocado Oil absorbs into the skin. For this reason, it may work wonderfully as a scalp treatment to soothe your skin and moisturize your hair.
Other customers report that this oil leaves their hair soft and shiny. This avocado oil does not have a scent on its own, so some women add their favorite essential oils when they want a little aromatherapy.
WHAT WE LIKE:
✅ No preservatives or unnecessary ingredients
✅ Absorbs quickly into scalp
✅ Makes hair soft and shiny
WHAT WE DISLIKE:
❌ Spray bottle may not work for everyone
Now Foods Avocado Oil
It seems like the main difference between Now Foods Avocado Oil and other brands is the quantity. Now Foods Avocado Oil comes in big 16 ounce bottles! If you're going through the more common 4-ounce bottles every few weeks, this may be exactly what you need.
Now Foods is 100% pure non-GMO avocado oil. Plenty of women say that this is a great avocado oil for natural hair. Apparently, a little goes a long way too. Rub some between your palms and dab on the ends of your hair for a boost of moisture.
One fairly persistent complaint with this avocado oil was the quality. Several customers report receiving oils that smelled bad or were cloudy or discolored (a good indicator of spoilage). It's also worth noting that, despite the name, this product is not meant to be eaten…something a few people have found out the hard way.
WHAT WE LIKE:
✅ Great moisture for natural hair
✅ Available in large 16-ounce quantities
✅ Lasts a long time thanks to both bottle size and the small quantity needed to be effective
WHAT WE DISLIKE:
❌ Some reports of receiving rancid oil
❌ Ignore the name. Definitely not food safe, so don't be tempted to cook with it!
Maple Holistics 100% Pure Avocado Oil
Maple Holistics recommends their 100% Pure Avocado Oil for hair growth. This oil, massaged into the scalp, may help unclog hair follicles. Even if you don't end up with thicker hair, Maple Holistics 100% Pure Avocado Oil will help keep your hair shiny and smooth.
One thing that stands out about the reviews is moms who bought Maple Holistics avocado oil for their kids and ended up keeping it for themselves! The uses range from making hair easier to comb to soothing itchy scalps. The four ounces of oil seems to last a good amount of time too.
The most common complaint is about the packaging. The bottle is apparently hard to use and often results in some dribbling. Other people had issues with the cap coming off and spilling oil everywhere. If you decide this is the avocado oil for you, you may want to plan to transfer it into another bottle.
There are also a few reports of this oil causing breakouts and rashes. Though this can happen with any product, avocado oils tend to be pretty non-irritating across the board. The number of people who reacted to this oil may be a fluke or it could indicate some other issue.
WHAT WE LIKE:
✅ May help stimulate hair growth
✅ Good moisturizer
✅ Good value for the quantity
WHAT WE DISLIKE:
❌ Potential packaging issues
❌ Some reports of skin irritation—spot test first!
Honeydew Avocado Oil For Hair Skin Nails
This avocado hair oil by Honeydew has a lot of advertised uses: massage, wrinkle treatment, anti-aging, moisturizing etc. However, most customers seem to use it for their hair and are happy with the results. People also describe this oil as having a light, pleasing smell.
For shiny hair, you can add a few drops to your regular conditioner or apply the oil all over your hair and rinse. One reviewer claims that this also works great in a simple hair wrap. Dab a little all over your head, wrap, and let the moisturizers go to work.
This product is 100% pure avocado oil, but it is not organic or unrefined (so no cooking with it). A few customers experienced issues with the packaging and leakage. Finally, it seems like a lot of people were disappointed in the 4-oz size and felt they went through it rather quickly.
WHAT WE LIKE:
✅ Nice light avocado scent
✅ Works well for a variety of hair treatments
WHAT WE DISLIKE:
❌ Bottle may leak or break easily
❌ Small size didn't last as long as some people hoped
So which is the best avocado oil for hair?
[amazon table="27959″] Our pick for the top avocado oil for hair is Tropical Holistic 100% Organic Cold Pressed Pure Avocado Oil. This pure, refined oil does wonders to repair damaged ends and keep hair glossy. Customers love the high-quality glass bottle and convenient dropper.
This avocado oil is high enough quality to be labeled "food safe," but you may want to stick with unrefined oils for cooking. Some people were also disappointed that this oil had little scent on its own. Therefore, you may want to consider adding an essential oil like lavender or peppermint for aromatherapy purposes.
All in all, avocado oil is a great choice of natural product to add to your beauty routine. Coconut oil has held the top spot among beauty oils for a while, but it seems more and more coconut devotees are switching to avocado oil. Having yet another way to enjoy the wonderful, natural properties of avocados is more than all right with us here at HHV!
ABOUT THE AUTHOR
Lisa Williams is a committed vegan, passionate animal welfare advocate, and keen follower of too many v-friendly food blogs to mention.
She started happyhappyvegan.com back in 2016 because she felt there was a need for more straightforward information on plant-based living. Back then, too many sites seem to either concentrate solely on recipes or be too intimidating or inaccessible for the v-curious and she wanted to change that. The landscape is certainly a whole lot different now!
Lisa lives in Sussex with her husband and their three-legged wonder dog, Mable.